While new bathtub manufacturers, like Kohler and American Standard, offer only one year warranties against manufacturer defects, each individual Miracle Method franchise provides a five year warranty. This five year warranty covers workmanship, peeling or other failure of adhesion of the new coating. The warranty covers bathtubs, wall tile and fiberglass units. The warranty is printed on the back of your invoice.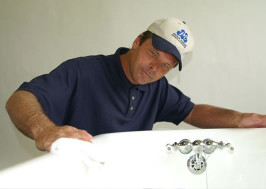 Refinishing is an outstanding alternative to replacement, adding years to the useful life of most kitchen and bath surfaces, while providing unlimited color and decorating options.
Each Miracle Method franchisee is a skilled craftsman who uses only the best materials and takes pride in his work. If you have a problem with your new finish, it can almost always be fixed.
Finding a Miracle Method office
If you are considering refinishing your bathtub or shower, click on Find a Location or call our toll free locator number, 1-888-271-7690 to reach the nearest Miracle Method professional.