If you are thinking about buying a do-it-yourself (DIY) porcelain repair kit or other bathtub refinishing kit from your local hardware store, consider the following.
DIY bathtub refinishing kits offer a limited choice of colors. Miracle Method can offer an unlimited number of colors. Even white is very difficult to color match.
Most kits typically contain epoxy coatings, which are old technology. Epoxy is very durable, but does not have the same gloss or uniform appearance as acrylic coatings. Epoxy dries very slowly. Multiple coats will be required meaning that several days may be necessary to complete a DIY project. Over time epoxy can yellow or become chalky in appearance.
Kits provide only the chemicals. You must provide the equipment, tools, and personal safety equipment including chemical resistant gloves, respirators, exhaust fans, eye protection and Tyvek paint suits.
A finish applied with a brush or roller will be uneven and look "painted". A glossy, smooth finish can only be achieved though the use of a fine finish high volume low pressure (HVLP) spray equipment.
Some DIY kits are only intended for repairs and not complete refinishing jobs.
Some kits contain cans of spray paint which simply camouflage the problem and will rarely last any length of time without the use of a bonding agent.
Many consumers purchase a DIY kit to repair tub chips even though the instructions plainly state that it will take three days or more before you can use your tub.
Before…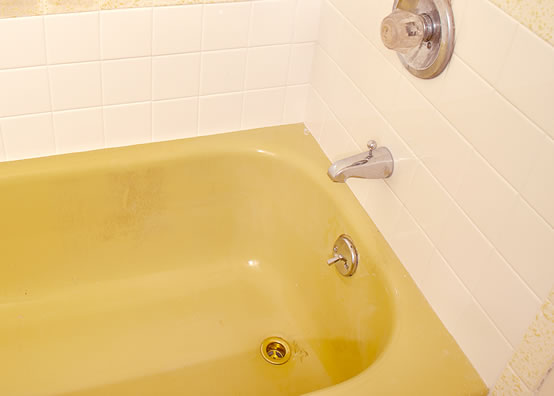 After!