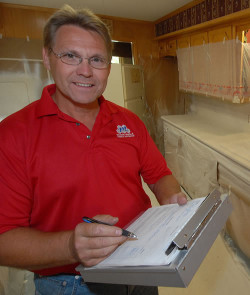 Refinishing countertop and vanity surfaces is an excellent alternative to replacement and provides many years of useful life, while offering unlimited color and decorating options.
Each Miracle Method franchisee is a skilled craftsman who uses only the best materials and takes pride in his work, offering a limited five-year warranty against adhesion failure on your refinished countertop. Ask for a copy of the Miracle Method Limited Warranty when you're given an estimate. You'll also receive a copy of the warranty with your invoice upon completion of your project.
If you have a problem with your new finish, it can almost always be fixed. For any questions on warranties, contact your local franchise by calling our toll-free locator number, 888-271-7690.