Our refinished countertops and vanities look better, feel better, and last longer than those of our competitors. And, we get your job done right the first time!
Refinishing is a proven, cost effective alternative to the messy removal and replacement of kitchen counters, bathroom vanities, bathtubs and wall tile.
Refinishing performed with the right materials and using the right procedures produces incredibly beautiful results!
But not all refinishing is the same. No other refinisher delivers the quality work or level of service consistently offered by Miracle Method.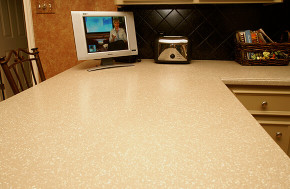 Superior Adhesion
Only Miracle Method has MM-4, a proprietary bonding agent. Acid-free MM-4 molecularly bonds the old and new surface together, ensuring quality and durability as well as eliminating the need for dangerous and toxic etching acids often used by other refinishers. Others may claim to use materials similar to MM-4 …but they're not as good or proven for nearly 30 years!
Superior Finish & Feel
A Miracle Method refinished countertop doesn't just look like new again, it also feels like new again. Miracle Method takes the time to detail the new surface, a step that most other refinishers won't do.
Superior Craftsmanship
The best materials and procedures only produce the best results in the hands of trained professionals. Miracle Method's technicians are licensed and insured and receive extensive training before they are ever allowed to work on a customer's job.
Superior Service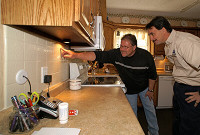 We will thoroughly explain our process, complete the job on time, and do so without any hidden charges or surprises. The bottom line…we will do what we say we will do.
Superior Reputation & Track Record
Miracle Method has been "The Preferred Refinisher" for over 38 years and has over 140 locations in the US and Canada. We specialize in refinishing. We know what we are doing. We have successfully done work for most every major hotel chain in addition to thousands of apartments, college dormitories, and homes across the US and overseas.
Superior Materials
Other refinishers use everything from white enamel spray paint to yellowing epoxies to "refinish" bathtubs. Miracle Method uses only hi-tech acrylic coatings that are especially formulated for refinishing. Our materials cost a little more, but also produce the best results.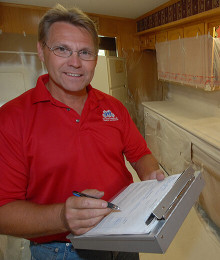 Superior Procedures & Techniques
Miracle Method technicians never stop learning. Our organization holds regional training workshops and national conventions to keep our franchisees up-to-date and current with the latest technology and procedures. Continuing education is a requirement for each franchise.
How Miracle Method is Different – Finding a Miracle Method Office Click on Find a Location or call our toll free locator number, 1-888-271-7690, to reach the nearest Miracle Method professional.