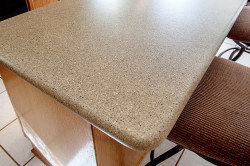 With proper care and maintenance, Miracle Method refinishing can extend the useful life of your fixtures for up to 15-20 years or more.
Our technologically advanced coatings are designed to stand up to daily use and do not require special care. However, like a newly installed laminate or man made countertop surface, a refinished surface can be chipped or scratched if it is abused.
How Long Will Our Finish Last? – Finding a Miracle Method Office
Click on Find a Location or call our toll free locator number, 1-888-271-7690, to reach the nearest Miracle Method professional and ask for a free estimate to refinish your kitchen countertop or bathroom vanity.