Solid Surface Countertops – Are you looking to install Corian or Silestone countertops?
Kitchen counters can be made out of a variety of materials including granite, concrete, tile, wood, and laminates, such as Formica®. In addition, relatively new technology has led to the development of engineered or synthetic composite materials like Dupont's Corian®, Silestone®, and Swanstone™. These man-made materials make great countertops, but they are an expensive option when considering them to replace a laminate or tile countertop. If you're considering installation of Corian®, Silestone®, or another solid surface, also consider the time, cost and repair advantages of countertop refinishing by Miracle Method.
Before…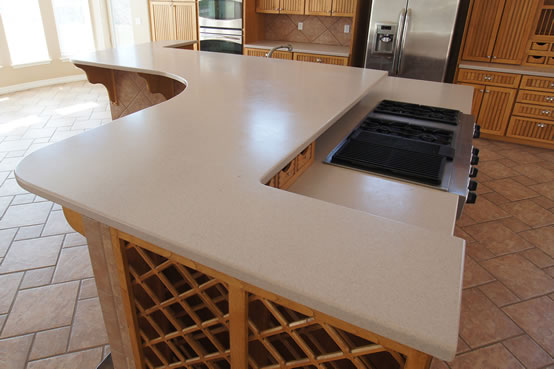 After!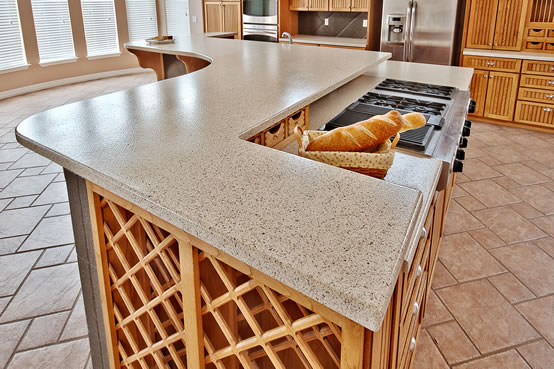 Solid Surface Countertops – What are they?
A solid surface countertop refers to any type of kitchen countertop that is installed to give the appearance of a single material. Granite countertops and engineered countertop surfaces like Corian®, Silestone®, and Swanstone are popular, but expensive to buy and install. Miracle Method's Natural Accents™ provides a similar stone solid surface look at a fraction of the cost, and unlike these products has greater color options and is repairable. Natural Accents™ surfaces are ideal for kitchen countertops, sinks, tub surrounds, vanities, and showers.
Solid Surface Countertops - What are the advantages of refinishing countertops?
Solid surface and engineered stone countertops have certain advantages and disadvantages.
Corian® & Other Solid Surfaces
Advantages
Disadvantages
Non-porous, easy to clean
Expensive
Stain and heat resistant
Can be cut and scratched
Any seams become almost invisible
Limited color and pattern selection
Repairable
 
 
 
Countertop Refinishing
Advantages
Disadvantages
Inexpensive
Can be cut or scratched if used without a cutting board
Non-porous, easy to clean
Stain and heat resistant
 
Seams become almost invisible
 
Repairable
 
Bullnose or other edges available
 
Almost unlimited color and pattern selection
 
Solid Surface Countertops - How do I find a professional refinisher?
Refinishing is almost always more affordable, quicker, and easier than removal and replacement. Click on Find a Location or call our toll free locator number, 1-888-271-7690, to find the Miracle Method office closest to you and request a free estimate.