Does a refinished countertop require special care?
A Miracle Method refinished countertop should provide many years of service when given the same care and maintenance recommended by Formica®, Wilsonart®, Corian®, Silestone® and other solid surface countertop manufacturers. Like laminate or solid surfaces, the new finish is not indestructible.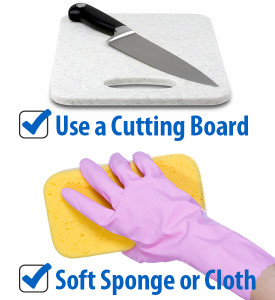 USE A CUTTING BOARD AND ALWAYS PLACE A HOTPAD UNDER HOT POTS AND PANS. Like laminate and solid surface countertops, a refinished surface can also be damaged by knife cuts and hot pans placed on the surface.
USE ONLY NON-ABRASIVE, LIQUID CLEANERS, OR MILD SOAP & WATER. Your refinished surface can be easily wiped clean with a damp cloth or non-abrasive sponge
DO NOT USE ABRASIVE CLEANSERS, HARSH ACIDS OR CLEANERS THAT CONTAIN BLEACH! These materials can discolor or damage the surface causing premature wear.
DO NOT ALLOW ANY CLEANERS OR CHEMICALS TO REMAIN ON THE SURFACE for an extended period of time before thoroughly rinsing.
TIP: For best results, spray the surface with a liquid cleaner and wipe it off. Rinse the surface with fresh water and wipe dry.