Consumers are always interested in keeping their home safe and beautiful!
More homeowners choose to fix up and improve their home, rather than buy a new property. We specialize in the two most remodeled rooms in the home…bathrooms & kitchens. Our service gives homeowners the beauty & safety they desire at a price that makes them happy. After all, saving money never goes out of style…and that's good for business!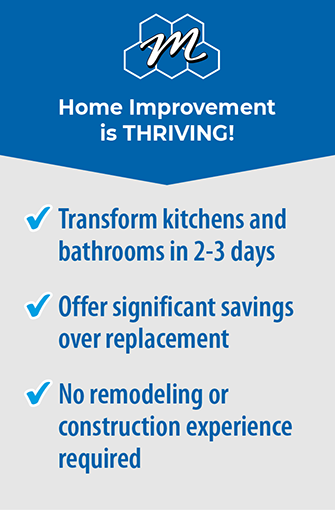 Professional results require a skilled refinisher!
Another compelling fact is that our refinishing is a process that customers cannot effectively do themselves. Our refinishing is so good it looks like new! Professional results require skilled refinishers and that's what Miracle Method does.
Refinishing technology is constantly advancing. Miracle Method uses the latest technology to provide customers with the highest quality results. We have over 1,250,000 satisfied customers since 1977. And, we continue to grow at a record pace!
Want to speak to our franchise onboarding coach?
Call us at 1-888-514-7823