An incredible and unique value proposition!
We specialize in fixing customers' surface problems in their baths and kitchens. Instead of ripping out and replacing damaged bathtubs, outdated tile, and ugly countertops, Miracle Method offers a beautiful alternative. We repair and refinish fixtures in place making them look and feel like new. Homeowners and businesses can have updated bathrooms and kitchens – FAST!

We apply a new, seamless,

non-porous finish:
The life of a fixture is extended for up to 10-15 years, effectively "recycling in place"
Chips, cracks, and other damage are repaired
The surface becomes much easier to clean and keep sanitary
Tile grout lines are permanently sealed
Savings can be up to 70% versus the cost of replacement
Colors are changed – UGLY surfaces become BEAUTIFUL again
Antimicrobial technology can inhibit germs and bacteria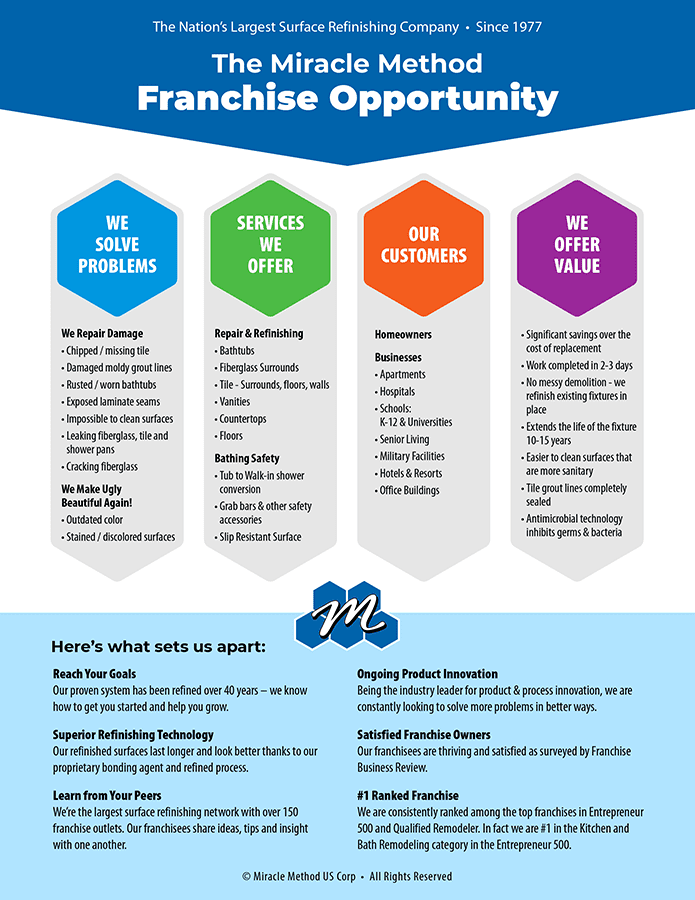 Our customers include homeowners & businesses too!
Miracle Method services both residential and commercial properties! Universities, hospitals, senior living, K-12 schools, and hotels & resorts appreciate that we solve their problems, save them money, and get them back in business quickly!
Want to speak to our franchise onboarding coach?
Call us at 1-888-514-7823