Let's Grow Your Business
Success requires an initial investment of approximately $86,000 - $149,000. How quickly you want to grow, how many technicians you employ, and the cost of advertising will determine your exact capital required.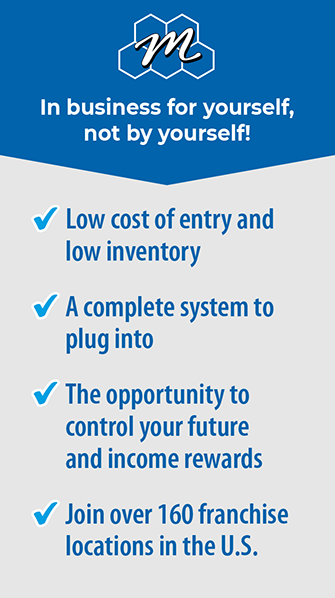 Estimated initial startup capital
What you pay us:
Franchise Fee: Includes 15 days of intense training, a business & marketing startup package, protected territory, membership into the Miracle Method Network and proven support.
$45,000*
What you need to start your business:
Initial Equipment & Supplies ($6,000 per tech).
$6,000 - $18,000
Vehicle purchase, office setup, computer, start-up advertising, insurance, travel to training, operating capital etc.
$35,000 - $86,900
TOTAL**
$86,000 - $149,000
*The Initial Franchise Fee for a Miracle Method Franchise is the greater of $45,000 or $0.15 multiplied by the number of people in your territory. Our standard Miracle Method Franchise includes a protected territory ("Territory") that contains approximately 300,000 people.
**Total depends on the number of technicians you are planning to start with. Estimated startup is for a US based franchise (foreign or international franchise fees and costs are higher).
How much can I make?
How much money you can make is up to you, your ambition, and how closely you follow Miracle Method's system for running a refinishing business.
The top 50% of our franchisees generate annual sales between $1,076,000 - $3,291,000.
We cannot guarantee how much you will make, but we can offer you the opportunity to take control of your career and develop a business with the potential to generate sales similar to our current franchisees. Your income potential will directly depend on your individual sales and management skills, abilities, and ambition.
The refinishing industry continues to grow rapidly! Increased awareness and improved technology are helping Miracle Method franchisees expand and prosper. Strong diversity of revenue from residential, commercial and government accounts create a great opportunity to minimize risks of changes in the economy. This is a great time to get into the refinishing business!
Want to speak to our franchise onboarding coach?
Call us at 1-888-514-7823