Industry leading training, support, and assistance.
Miracle Method's success is due to committed franchise owners who take advantage of the fanatical support you receive from the day you sign your franchise agreement. With all of this support, why would you choose to be in business alone?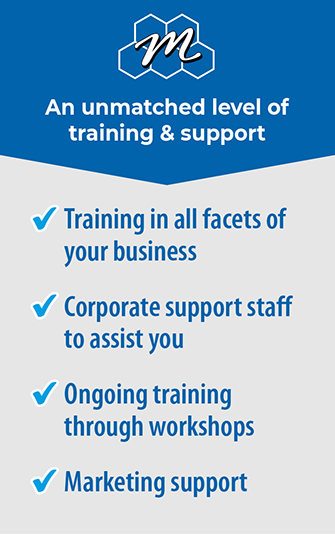 Help Starting My Business
Comprehensive Start Up Plan – Complete with checklists, guidance, and milestones
15 Days of On-Site Immersion Training – Training is held on-site in an actual operation. Training is included for you and your staff, and includes office, admin, technical and sales.
Operations Manual – Web based and printed manuals that are constantly updated with new techniques and information.
Vendor Discounts – We leverage our buying power and lower your cost of doing business.
MM Exclusive! MM-4 Bonding Agent – Exclusive to Miracle Method franchise owners, MM-4 is the most effective bonding agent in the industry. Since 1979, it has been tested and proven to be far superior to dangerous hydrofluoric etching acids used by most competitors. MM-4 is provided at no additional cost, other than shipping, to Miracle Method franchises.
Help Promoting My Business
Miracle Method franchisees have access to an array of leading-edge marketing tools and a responsive internal support team.
Marketing Plan – We help you customize a plan specific for your territory. In fact, we offer to manage your marketing for the first 60-days to get your phone ringing.
Startup Marketing Items – We send you an array of our marketing collateral to get you started. We include business cards, sales brochures, Consumer Guides, Customer Appreciation Packets, a before/after photo book and more.
Marketing Advertisements & Collateral – Access to an exclusive web portal with a vast library of sales brochures, television commercials, social media content, vehicle signage, home show materials, showroom displays and more.
Internet Presence – A professionally designed and highly ranked website where customers can call, email, or request an estimate. We even set up your own individual local website to showcase your local operation.
Social Media Marketing – We setup a business Facebook page for you and post to it weekly.
Corporate Advertising Support – Social Media content development, website development, branding and new ad creation, email marketing, SEO, Pay-per-Click and more!
Help Growing My Business
Business Coach – Personalized coaching to work through challenges, shape your vision and grow your business.
Technical Support – You will have access to a technical trainer, a Facebook group, technical updates, technical workshops, and an ops manual with up to date Standard Operating Procedures (SOP). You will always be able to get an answer to your technical questions or challenges.
Corporate Convention – Held in cities across the country, the convention program concentrates on how to market and manage your business to meet your goals and grow profitably.
Protected Territory – Your territory will be based on population and economic factors. Generally, a territory consists of 300,000 or more people.
Owners Facebook Group – To ask questions and exchange ideas and tips.
Fanatical Administrative Support – You will benefit from Miracle Method's expertise in accounting, IT and operations. Members of our corporate staff are experts on Quick Books Online, our CRM software, and operational and product management. After your initial training in these areas, you are only a phone call or email away from additional help whenever you need it.
Want to speak to our franchise onboarding coach?
Call us at 1-888-514-7823