No one can match our proprietary surface refinishing process, quality, or experience.
Miracle Method has been refinishing surfaces and making them beautiful for over 40 years! The success of our proven system has resulted in the largest franchise network of refinishers in the United States. Our proprietary products and systems ensure that no other competitor offers the beauty, durability, or options that Miracle Method does. Wouldn't you like a business with limited competition?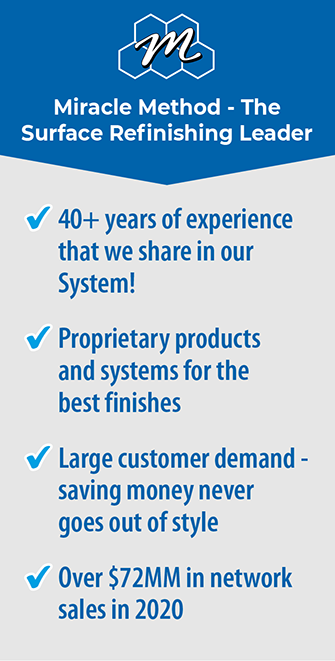 Miracle Method thrives…in good times & bad
Our business has thrived when the economy is at its best as well as when times have been hard. Homeowners put a priority on maintaining their largest and most important investment… their home. We not only make surfaces beautiful, but we also make them safer from germs, bacteria & viruses. A seamless, non-porous surface is much easier to keep clean and is much more sanitary.
Saving money will never go out of style. Refinishing will always be in high demand.
Want to speak to our franchise onboarding coach?
Call us at 1-888-514-7823