Miracle Method Launches Strategic Franchise Growth Plan
10/17/2022
COLORADO SPRINGS, Colo. – Miracle Method, the nation's #1 kitchen and bathroom remodeling company according to Entrepreneur Magazine, announced today a plan to expand its presence across the country through strategic franchising.
Known for providing money-saving solutions for outdated, unsafe or hard-to-clean surfaces, Miracle Method originated and perfected a proprietary bonding process for refinishing that ensures a beautiful transformation with premium quality and exceptional durability. As interest in this hassle-free method increases, the brand is focused on awarding franchise opportunities to qualified candidates that can meet the growing residential and commercial refinishing demand brimming in U.S. markets coast to coast.
"In the markets we are already serving, some of which we've been in for decades and others just a few years, we've quickly and consistently become the unquestioned go-to surface refinishing business," said Chuck Pistor, president and CEO of Miracle Method. "And, here's why…we refuse to stop innovating. We work hard to introduce new colors, textures and finishes that assure top quality in décor and longevity. The time is now to take our strengths as a business and share them with more communities across the country through franchising."
Currently, Miracle Method franchise locations are situated in 160-plus U.S. cities and towns. The new franchise expansion calls to more than double that count, forecasting at least 500 locations nationwide. Reinforcing its franchising strategy, Miracle Method has fortified its leadership team with top industry professionals skilled at growing high-performing brands. The company recently welcomed seasoned franchise executive Colleen O'Brien, who is now guiding the brand's development efforts. She brings extensive experience and accomplishments in developing brands such as Kitchen Tune-Up and Kona Ice. Behind O'Brien's leadership, annual expansion is anticipated to begin tripling in key U.S. markets with Chicago, Pittsburgh, New Orleans and Birmingham initially prioritized.
"Miracle Method stands alone. There's no concept that I've been a part of that boasts the same level of proprietary products and services. Miracle Method provides the protection entrepreneurs need to maintain clear distinctions in their markets," said O'Brien, who also authored one of the franchise industry's most informative books, The Franchise Game. "As we get the word out about franchising with Miracle Method in new communities for our brand, there's little doubt that a strong response will follow."
Already, Miracle Method is building franchise development momentum. In recent months, the concept entered key territories such as Fort Myers, Florida and Des Moines, Iowa. An additional late-2022 opening is planned for Jacksonville, Florida, setting the stage for growth in 2023 and beyond. Validating Miracle Method's reputation, expansion plans and franchise model, Entrepreneur magazine's 2022 "Franchise 500" ranking placed it as the #1 franchise in the "Home Improvement" category.
With 2022 system-wide sales on track to be up nearly six percent from the previous year, Miracle Method carries strong customer demand into its franchising initiative. Given their performance, existing franchise owners are clinging to the compelling interest from customers, with many leveraging the opportunity to become multi-unit and multi-territory operators. Thus, interest in franchising with Miracle Method is coming from several directions.
Miracle Method takes the guesswork out of home improvement. Through its proprietary blend of products, the brand is able to reimagine outdated kitchen and bathroom spaces for a fraction of the time and money required in traditional renovations. With a specialty in refinishing tile, tubs, and countertops, the brand highlights an additional emphasis on providing elderly customers with safe solutions for everyday tasks. Bathroom modifications give families of those with limited mobility peace of mind knowing their loved ones are able to live independently without the risk of slipping and falling.
Miracle Method is eager to align franchise opportunities with individuals who are enthusiastic about the services provided. Ideal franchise candidates brandish business leadership experience, a competitive edge, a desire to help those in their community and the ability to invest between $86,000 - $149,000 to launch their business. Qualified military veterans receive a 10 percent discount on the franchise fee.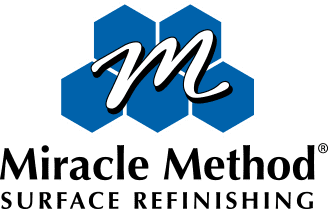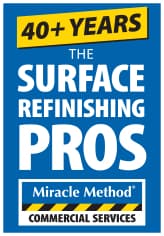 Interested in learning more?
Let's Talk!
Fill in the form below and our franchise onboarding coach will reach out to you shortly.
Want to speak to our franchise onboarding coach?
Call us at 1-888-514-7823
Miracle Method is recognized as a top franchise opportunity
It takes years of hard work and consistent growth to be listed as one of the top franchises in the country for kitchen and bathroom remodeling.