Summary: Miracle Method, the nation's largest surface restoration company, has introduced Natural Accents

, a new multicolor stone look for countertops. It's a durable, affordable and beautiful alternative to expensive granite and other solid surface options requiring traditional removal and replacement.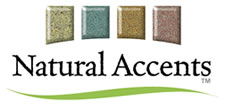 Colorado Springs, CO (PRWEB)
July 8, 2008 --

Bathtub refinishing was once the mainstay of the surface restoration industry. Today, it's all about countertops. Miracle Method, the nation's largest surface restoration franchise has introduced Natural Accents

, a revolutionary new finish for countertops, vanities and tile.
"Kitchen countertops are the new WOW factor for homeowners," says Chuck Pistor, president of the nearly 30 year old Miracle Method company. "People want the multicolor look and features of stone. We can provide both at a tremendous cost savings with Natural Accents

."
According to Pistor, Natural Accents

works equally well on laminate, tile, Corian
and cultured marble surfaces. It's a custom look in which the homeowner can choose flat, satin or even a semi-gloss finish. They can have it smooth or with a slight texture.
"A Natural Accents

countertop is a very affordable way to create a kitchen makeover without breaking the bank," says Pistor. "One customer was having a contractor do other work in their home and when he saw a Natural Accents

refinished vanity, he was sure it was granite. It looks that good."
The process involves cleaning the original surface, repairing any knife cuts, burns, etc., and applying Miracle Method's MM-4 bonding agent. MM-4 is a proprietary, non-acid bonding agent that assures the new surface will stick. The surface than receives several coats of Natural Accents

color until the desired appearance is achieved. Once the color coat is cured, two coats of clear protective coating are applied. The entire process takes 48 to 72 hours, not weeks and certainly without the mess of traditional removal and replacement.
The Natural Accents

stone look is not only becoming the hottest new look for countertops, but is also being used on tile bathtub surrounds and bathroom tile floors. Plain tile is giving way to the beautiful multi-color hues Natural Accents

creates in contrast to a glossy white bathtub or basic tile floors. "Our customers are coming up with as many creative applications as we are," according to Pistor.
Sales of Natural Accents

have exceeded all expectations. "In nearly 30-years of doing bathtub refinishing, fiberglass repair and tile refinishing, we have never had a product that has been so well received," says Pistor. "We are not the only ones happy; our customers are thrilled with the look, durability and affordability of the Natural Accents

finish in their homes."
Since 1979, Miracle Method has been the nation's leader in Surface Restoration. Today the company has 120 offices across the country providing bathtub, tile and countertop refinishing for homeowners, hotels and property managers.