Colorado Springs, CO (PRWEB)
November 12, 2009 --
Victorian bathroom fixtures like clawfoot bathtubs and pedestal sinks are finding their way back into bathrooms of new homes and remodels. The charm a clawfoot bathtub, pedestal sink, or an antique lavatory adds to a home is undeniable. These vintage bathroom fixtures reflect simpler times when bathing was a relaxing and special event.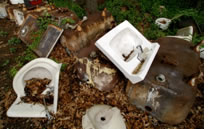 While there are reproductions being made today, the most desirable fixtures are those rescued from older homes, architectural salvage yards, or even barnyards. No matter how pitted, rusted, or chipped the tub or sink is, it can be restored to its original beauty.
Miracle Method, a surface restoration company with over 140 locations across the country has been restoring antique bathroom fixtures for over 27 years. "These fixtures are a work of art that deserve an experienced craftsman to restore it," according to Chuck Pistor, president of Miracle Method. "Our process will have the old finish looking as bright and glossy as the day it was manufactured. Even deep porcelain chips or cracks can be repaired."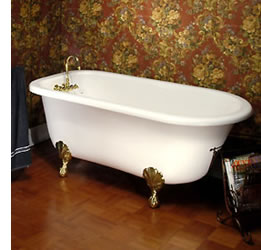 A clawfoot tub is often the centerpiece of a bathroom-remodeling project. Tubs were generally made in sizes from four to six and a half feet long and there were many styles and shapes.
Restoration begins when the fixture is delivered to a Miracle Method office where it is inspected to make sure the cast iron surface is solid and not rust through. It is cleaned and prepared, and sometimes sandblasting in necessary to remove old paint and rust.
The exterior of most tubs is rough, exposed cast iron. Owners can choose to leave it rough, and when refinished it will have a bumpy look or to have it filled and sanded for a smooth finish, which gives the exterior a glossy look. Either way, the exterior is sealed and can be refinished in any color.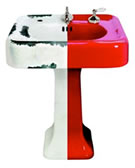 A variety of colors are available for the interior porcelain. The most common color is white, but almond and bone are also popular. Picking the colors for a clawfoot tub and matching pedestal sink is where the owner can express their creativity.
The feet are in a class by themselves. Some feet are fairly simple and plain. Others have bold designs and incredible details of animal claws. They can be refinished to match or contrast with the exterior, but the recommended treatment is to have them metal plated in a gold, chrome, nickel or bronze. If a foot is missing, Miracle Method has a resource to have a matching clawfoot cast. Note that not all feet are the same and will differ from model-to-model, year-to-year and brand-to-brand and front-to-back. Do not lose the feet. Finding new ones to fit a tub can be challenging.
Once the tub is refinished, there are a variety of antique reproduction faucets, handles, drains, overflow covers, etc., to make an antique tub functional. Miracle Method refinishers can help homeowner find everything they need.
Many Miracle Method locations stock un-restored clawfoot tubs, pedestal and farm sinks and other fixtures. They are all available to be restored. The cost to replace these "priceless" antiques will vary depending on condition and levels of restoration you choose. Your Miracle Method refinisher will be happy to provide an estimate to restore your fixture to its original glory.
To learn more about what Miracle Method can do with vintage bathroom fixtures visit www.miraclemethod.com or call (888) 444-8827 to find the nearest Miracle Method location.