Colorado Springs, CO (PRWEB)
July 14, 2009 --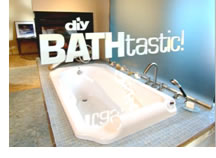 When Edelman Productions, a Minneapolis video production company needed to have a bathtub refinished for their newest DIY Network show, Bathtastic, they turned to Miracle Method. The nation's largest surface refinishing network, Miracle Method is offering free bathtub, tile and countertop refinishing to home improvement program production companies.
In announcing this marketing policy, company President, Chuck Pistor, sees it as a win/win/win proposition. The production company gets the work for free, the public learns about the value of refinishing and Miracle Method gets the recognition. "Refinishing," according to Pistor, "is a great alternative to tear out-and-replace remodeling and allows the production company to save money to use for other upgrades."
Bathtastic airs on the DIY Network and is hosted by Matt Muenster. The idea of the show is to transform bathrooms from boring to Bathtastic! The first show featuring a Miracle Method solution to changing an ugly bathtub and tile to look like new is airing throughout April and May. The homeowner actually suggested having Miracle Method refinish their bathtub and tile because they use a proprietary bonding agent instead of dangerous etching acids in their process.
"It really turned out well," says Miracle Method Marketing Director, Don Dominick. "The homeowners were thrilled and the transformation made great video."
Edelman Productions used Miracle Method on a second production, which will air later this summer. Edelman is based in Minneapolis, where Miracle Method has four offices, making it easy for the production company to use whichever office is closest to the house that is getting a bathroom makeover.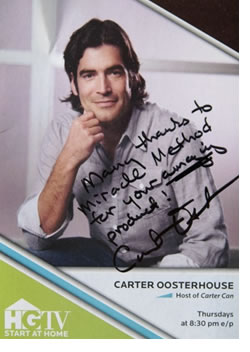 High Noon Productions, producer of the very popular Carter Can show also requested assistance from Miracle Method. This time the project was a brown tile shower. The Orange County, CA homeowners were skeptical that anything short of sledgehammer and new tile could solve their problem. The end result was a beautiful glossy white shower that impressed the homeowners, producer and show host Carter Oosterhouse.
"Having our work featured on HGTV and the DIY Network has been a great boost to our business and we will continue to offer our services to these production companies," says Pistor.
Dominick has seen it as a great way to enhance the company's advertising budget. "We've seen how sending news releases through services like PRWEB has helped us build our brand. Being a featured service on a home improvement television show just takes us to the next level," adds Dominick.
Miracle Method's goal is to use these shows to demonstrate how bathtub or countertop refinishing is an excellent remodeling alternative that can save homeowners money and make existing bathroom and kitchen surfaces look like new. The fact that Miracle Methods restores bathtubs, tile and countertops rather than sending them to landfills has also been attractive to environmentally conscious producers who to demonstrate a "Green Remodeling" solution on their shows.
Producers of HGTV, DIY and TLC network home improvement shows are invited to contact Don Dominick at 800 444-8827. He will review the show's needs, evaluate the project and arrange for the work to be done.
Miracle Method has 120 locations and offers a five-year guarantee against peeling or failure of adhesion. A refinished bathtub surface should last 15 to 20 years using the same care and maintenance recommended by new tub manufacturers. To see photographs of refinished fixtures and to learn more about using refinishing to lower bath and kitchen remodeling costs, visit Miracle Method's web site at www.miraclemethod.com.