Summary: With today's Internet traveler reviews, dull, worn, chipped and cracked bathroom surfaces can quickly tarnish the image of any hotel. Miracle Method's Hotel Response Team can quickly respond to hotel needs to refinish bathtubs and tile to like new appearance and feel.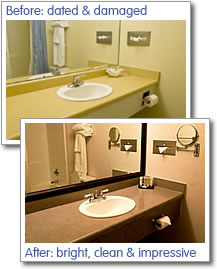 Colorado Springs, CO (PRWEB)
March 20, 2007 --

Faced with an increasing number of requests from hotels for bathtub and tile refinishing work, Miracle Method, the nation's largest surface restoration company has created a dedicated Hotel Response Team.
Hotel room renovation is very demanding, requiring minimal interruption of guests and services. Often, blocks of rooms are slated for updating and the work needs to be done in days, not weeks. "It's rare that a hotel shuts down for total renovation, so we have created a rapid response team that can address a hotel's needs quickly and efficiently," says Chuck Pistor, President of Miracle Method.
With today's internet traveler reviews, dull, worn, chipped and cracked bathroom surfaces can quickly tarnish the image of any hotel. Hotels just can't afford to have less than perfect bathrooms.
Miracle Method's 120 nationwide offices are all hotel qualified, but when major projects arise, a team is assembled from the network's most experienced offices. "It no longer matters whether we have an office in the area, or where the hotel is located. For larger projects, we can have a crew on the ground and working, often in less than ten days," adds Pistor.
In business since 1979, Miracle Method has developed a quality reputation for bathroom and kitchen surface restoration in the residential and property management market. Residential work often turns into commercial work. On more than one occasion, Miracle Method has done work in the home of hotel managers, only to have the manager turn over a hotel bathroom renovation project to them.
"We are especially proud of the restoration work we have done for historic hotel properties," adds Pistor. "A Miracle Method team restored 171 vintage bathtubs in the historic Sainte Claire hotel in San Jose, CA. Removal and replacement of the classic bathroom fixtures was both unthinkable and impractical. The results were excellent and this project has led to other work done in hotels on various state and local historical registries."
The company is committed to the hospitality industry with project pricing and the ability to put a crew on site to refinish as many bathtubs and tile walls as needed with short notice. Like the work they do for homeowners, Miracle Method's hotel teams use the same proprietary MM-4 bonding agent that allows them to guarantee their work against adhesion failure. And like homeowners and property managers, hotels have come to appreciate the quality and durability of Miracle Method's work.
The company provides a complete menu of services including bathtub and tile surface restoration; chip, crack and scratch repair; and installation of slip resistant surfaces. Miracle Method's process works on all types of tubs, tile, vanities and surfaces including fiberglass, porcelain, laminate, Corian
and cultured marble.