Summary: Real Estate agents are turning to Miracle Method, a national surface restoration company, to update bathrooms and kitchens to get a higher price for homes and speed sales.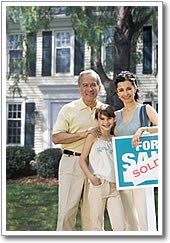 Colorado Springs, CO (PRWEB)
November 12, 2007 --

Recommending updates of bathrooms and kitchens by real estate agents to get a better price and faster sale has become known as staging. Miracle Method, a national surface restoration company, is hearing from more real estate agents every week, to renew bathtub fixtures and kitchen countertops to like new, without costly and time consuming removal and replacement.
Staging a home for sale has become an art, and television shows like HGTV's Designed to Sell tells sellers how spending money in key areas like kitchen and bathrooms can make a difference. According to Designed to Sell realtor expert, Donna Freeman, "The bathroom and kitchen can make or break a house sale." The show demonstrates how spending as little as $2000 in makeovers can add five to ten times that expense to the sale price of the house and move it much faster.
"Nothing sends a potential homebuyer back out the door of an Open House like avocado green bathtubs or old butcher-block kitchen countertops," says Don Dominick, marketing director for Miracle Method. "They not only tell the potential buyer the home is dated, but also tells them they have to spend money to bring it up to date."
According to Dominick, realtors are asking Miracle Method to use its durable refinishing process to makeover worn out bathroom surfaces and dated kitchen countertops. Jayne Sokol, a realtor in Westminster, MA says, "Refinishing is an affordable solution to give impossible-to-clean bathtubs, ugly tile and outdated kitchen countertops that 'designed-to-sell' look which adds excitement to open houses and turns lookers into buyers."
Professional surface refinishing by Miracle Method is not a quick fix but a proven restoration process that saves sellers money and allows realtors to put a more saleable home on the market faster and for a better price. Miracle Method not only saves home sellers time and money, but also the hassle and mess of removal and replacement of bathroom fixtures.
New coatings for kitchen countertops, especially Miracle Method's "stone" finish are very popular for realtors and sellers who want to give the home that makeover look without the expense of installing expensive solid surface countertops. It looks like stone, feels like stone, but costs significantly less.
Miracle Method has been serving homeowners, property managers and hotels across the country for nearly 30 years with trained and insured restoration professionals. Their proprietary process can be used to restore finishes on porcelain, fiberglass, cultured marble, laminate and even Corian® kitchen countertops. The results and durability are truly remarkable.
Miracle Method offers a five-year transferable guarantee against peeling or failure of adhesion. A refinished surface should last 10 to 15 years with the same care and maintenance recommended by new tub manufacturers.