Summary: Colorado Springs based Miracle Method Surface Restoration is ranked Number 256 in the Entrepreneur Magazine Franchise 500 list published in their January 2010 issue.
Colorado Springs, CO (PRWEB)
January 5, 2010 --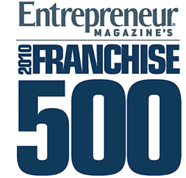 Miracle Method, the nation's largest bathtub, tile and countertop surface refinishing franchise, gained 71 places over their 2009 ranking in the Entrepreneur Magazine Franchise 500 to #256.
Chuck Pistor, Miracle Method's President attributes Entrepreneur's recognition as one of the best franchises to the company's comprehensive training, marketing and technical support programs. "It's really simple…if the franchisees are successful, then the franchise network is successful," said Pistor.
Unlike many businesses, Miracle Method saw the downturn in the economy as an opportunity to grow market share and increase its category dominance. Miracle Method increased national advertising, developed new refinishing processes and increased commercial revenue streams promoting services to colleges, universities and hotels "Our goal is to continually update our franchise model in order to create the best success opportunity for our franchisees. As the economy changed, we changed with it," added Pistor.
Miracle Method is also ranked Number 71 in Entrepreneur's list of Top 100 Home Based Franchises. "While a number of our franchisees start out as a home based business, they soon move up to having a showroom and shop," says Pistor. "Our goal is to help our franchisees turn what is one of the best home based businesses into a much larger, more profitable business opportunity. We really think we can break into the Top 100 of the Entrepreneur 500!"
The outlook for the surface restoration industry is very bright and sales of Miracle Method franchises have increased dramatically in 2009. "We've opened ten new locations in 2009 and anticipate doubling that number in 2010," according to Don Dominick, Director of Franchise Sales. "Our franchisee satisfaction is at an all time high," adds Dominick.
Dominick believes that Miracle Method is positioned to continue to dominate the field. "We will continue to help our existing franchisees capture market share and expand our capacity by selectively selling new franchises. A Miracle Method franchise offers a great value to a new owner by offering the potential to earn an annual net income ranging between $100,000 and $200,000", said Dominick.
Miracle Method is set apart in the industry by the use of their proprietary bonding agent, MM-4. Non-acid, MM-4 molecularly bonds the old and new surfaces together, ensuring quality, durability and eliminating the need for dangerous, corrosive etching acids often used by other refinishers. Considered a trade secret, MM-4, provides a competitive advantage and is available only to Miracle Method franchises.
Since 1979, Miracle Method has been the nation's leader in Surface Refinishing. Today the company has 120 offices across the country providing bathtub, tile and countertop refinishing for homeowners, hotels and property managers. To see pictures of Miracle Method's work and to learn more about bath and kitchen makeovers using the refinishing process, visit Miracle Method's web site at www.miraclemethod.com.