Summary: The Easy Step® by Miracle Method is an affordable bathtub to shower conversion that makes entry and exit into a bathtub safer for senior citizens. This conversion is far more economical and takes much less time to install than door or walk in bathtubs. Nobody wants to buy a house that requires the expense and mess of removing a bulky walk-in bathtub that you don't want or need.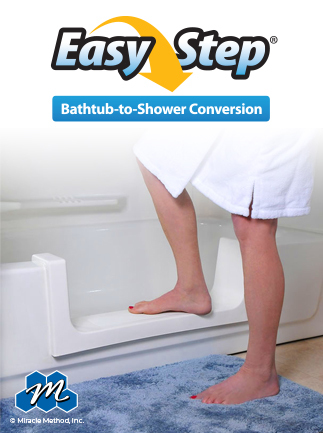 Colorado Springs, (PRWEB)
August 27, 2007 --

No room poses a bigger threat to safety for the elderly than the bathroom. Slip and fall accidents when entering and exiting the bathtub or shower contribute to nearly 25% of hospital admissions for people age 65 and older, and the most common result is a hip fracture.
The nation's leading surface restoration company, Miracle Method, has added the Easy Step to their product offering. Easy Step is an innovative bathtub to shower conversion that permits a person to step through, instead of over the tub. The Easy Step, along with installation of safety grab bars and slip resistant surfaces, greatly reduces the risk of slip and fall accidents.
Miracle Method's Easy Step conversion creates a 24 inch wide by 9 inch tall notch in the side of the tub making entry and exit of the bathtub easier by not having to raise your foot as high and run the risk of losing balance and falling.
An affordable solution, the Easy Step costs considerably less than expensive walk-in bathtubs and takes only one day to install. Walk-in tubs typically require tearing out the old bathtub, removing walls, and performing extensive plumbing modifications. In addition, walk-in tubs use significant amounts of water and take time to fill and empty while the user waits in the tub.
"What caregivers really like about the Easy Step is its simplicity and the speed in which we can make the installation," says Miracle Method President, Chuck Pistor.
"A real advantage to the Easy Step is that if the removed piece is saved," says Pistor, "it can be replaced at a later date and you'll never know the conversion had been made." This is a welcome feature for family members who may be faced with eventually selling the house. Unlike major walk-in or door tub installations, the ability to return the bathroom to normal makes the house easier to sell. "Nobody wants to buy a house that requires the expense and mess of removing a bulky walk-in bathtub that you don't want or need", adds Pistor.
Miracle Method can also install safety grab bars, hand held shower nozzles, curved shower rods and even slip resistant tub surfaces. Other options include refinishing the bathtub and tile wall surfaces, changing colors and fixing chips. "Our goal," according to Pistor, "is to provide a safer bathroom environment for our elderly customers which will allow them to stay independent and live in their own homes longer."
Pistor offers advice to senior citizens and their caregivers looking for easier bathtub access. Avoid high-pressure sales people who won't quote prices over the phone and always have someone with you to help you make the best decision for your situation. When it comes to refinishing, Pistor adds, "Refinishing is a great process if it is done with the right materials and techniques, but all refinishing is not the same, so be sure to ask lots of questions. How long has the company been in business? Will they use corrosive acids in your home? Do they ventilate the room, and do they offer a guarantee? Before making a decision definitely ask for references."
In business nearly 30 years, Miracle Method provides surface refinishing for bathtubs, tile, vanities and kitchen countertops. The company also offers a five-year guarantee against peeling or failure of adhesion. A refinished surface should last up to 15 to 20 years, using the same care and maintenance recommended by new bathtub manufacturers.