Walk-In Tub – The Easy Step
Are you considering a walk-in tub installation?
Before shelling out the cash for a brand new walk-in tub, you should know that installation requires tearing out your old bathtub. It may also require the removal of walls, extensive plumbing modifications and days, if not weeks, of work.
Miracle Method has a faster, more affordable alternative. In fact, the Easy Step® is just as effective in reducing the danger of slip and fall accidents, while also increasing access to bathing for injured or elderly people.

Safeway Step and Miracle Method Surface Refinishing…
partners in bathroom safety   


Miracle Method's Easy Step conversion lowers the tub side to make getting in and out of the tub safer. During the process, we'll create a 24-inch wide by 9-inch tall notch in the side of your existing tub. This notch can be installed in your tub in as little as one day. Which means if you're coming home from the hospital, you won't have to wait long to have an accessible tub. Additionally, the process is reversible if the cut out is saved. We can replace it, pretty much seamlessly at a later date—which makes this a great option for people who eventually plan to sell the house. We'll do the tub conversion on porcelain, steel, fiberglass acrylic, cast iron, and cultured marble bathtubs.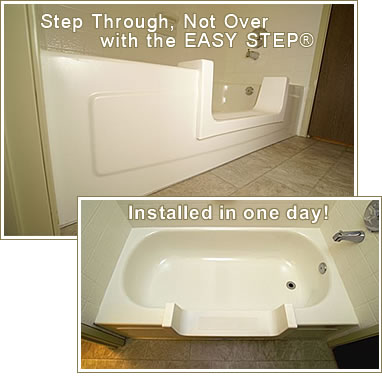 The Easy Step benefits
Reduces the risks of slip and fall accidents
Gives you or the person you care for easier access to bathing
Installed by Miracle Method in one day in your existing tub
Save thousands of dollars over the cost of a walk-in tub
Can be reversible - we can reinstall the cutout and refinish it to look like new
Also available - the Easy Step Bathroom Safety Package
When it comes to costs, the choice is clear: The Easy Step conversion costs less than $1500 compared to anywhere from $7,000 to $16,000 for a walk-in tub installation.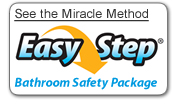 We also take it a step further by offering a complete Bathroom Safety Package, which can be installed in just one day. In addition to the Easy Step conversion, we will install two ADA approved safety grab bars, apply a slip resistant surface to the bottom of the tub, and install a hand-held shower head.
We know that slip and fall accidents in the bathtub contribute to nearly 25% of hospital admissions for people age 65 and older, and we want to help you make your bathroom as safe as possible. To learn more about the Easy Step walk-in tub, call our toll free locator number at 1-888-271-7690 or click on Find a Location.