Walk-In Tub – The Easy Step
Walk-in Tub - How can a walk-in tub make your life easier?
A walk-in tub can reduce the risk of slipping and falling when getting into and out of your bathtub. Would easier access into your bathtub and the safety of grab bars allow you, or a loved one, to live in their home longer? Does arthritis make it a challenge to step over and into your bathtub?

Safeway Step and Miracle Method Surface Refinishing…
partners in bathroom safety   


For any of these situations, only Miracle Method offers the Easy Step®. The Easy Step converts a bathtub into a shower in one day at a fraction of the cost of walk-in tubs! The Easy Step lowers the tub side to make entry and exit easier and safer. Installed in just one day the Easy Step is an affordable solution to help reduce the danger of slip and fall accidents.
The Easy Step benefits
Reduces the risks of slip and fall accidents
Gives you or the person you care for easier access to bathing
Installed by Miracle Method in one day in your existing tub
Save thousands of dollars over the cost of a walk-in tub
Can be reversible - we can reinstall the cutout and refinish it to look like new
Two options available - the Easy Step and the Easy Step with door
Also available - the Easy Step Bathroom Safety Package
Walk-in Tub Conversion - How can a tub be converted into a shower?
The Easy Step walk-in tub conversion allows you to step through and not over to help make bathtub entry and exit safer. Miracle Method's Easy Step conversion creates a 24 inch wide by 9 inch tall notch in the side of the tub making entry and exit of the bathtub easier by not having to raise your foot as high and run the risk of losing your balance and falling.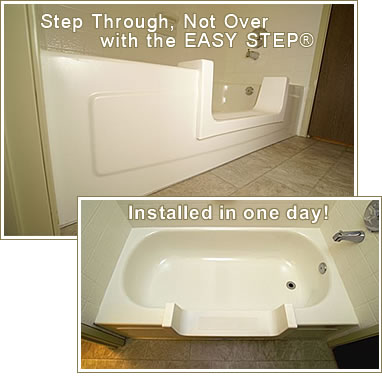 Walk-in Tubs - How does a walk-in tub compare to the Easy Step?
Unlike expensive walk-in tubs that require extensive remodeling to install, the Easy Step can be installed in just one day. Miracle Method converts your existing tub into a shower. It's suitable for steel, cast iron, fiberglass, acrylic and cultured marble bathtubs. Walk-in tubs typically require large amounts of time and money to tear out the old bathtub, remove walls, and perform extensive plumbing modifications. In addition, walk-in tubs with doors use significant amounts of water and take time to fill and empty while the user waits in the tub.
Having an Easy Step installed does not require the high-pressure sales presentation most walk-in tub or door tub sales people demand. Avoid purchasing home health care products from companies that won't quote prices over the phone and demand in-home presentations. Always have someone you trust help you make the best decision for your situation.
Miracle Method will quote you a price over the phone and respond quickly to schedule the installation. When someone is coming home from the hospital and needs access to a bathtub, they don't want to wait for days or weeks; they need help now.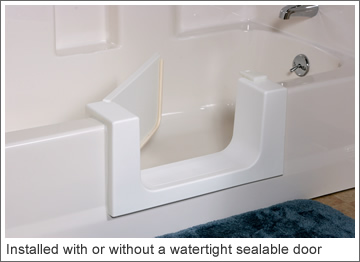 Walk-in Tubs - What are the benefits of the Easy Step?
The Easy Step walk-in tub is an excellent addition to the homes of senior citizens and individuals with disabilities to allow them to stay in their primary homes and residences.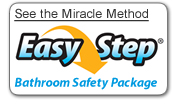 According to the Council on Aging, there are over 25,000 accidents each year that occur in and around the tub area. The Easy Step provides homeowners and caregivers a low-cost alternative to cost-prohibitive bath remodeling projects while providing homeowners with easier access to the tub area and helping to prevent injuries and falls.
Miracle Method professionals can install the Easy Step in less than one day in any type of tub, whether it is fiberglass, steel or even cast iron. It's the affordable solution for bathroom safety!

Listen to a national interview
on the benefits of the Easy Step
Don Dominick, Miracle Method
interviewed by PRWeb
Walk-In Tub Conversion - Finding a Miracle Method Office
To learn more about the Easy Step walk in tub, click on Find a Location or call our toll free locator number, 1-888-271-7690 to reach the nearest Miracle Method professional.