Can I Do This?
Yes! You Can
We provide essential tools for you to manage your business and future! Strong management produces strong results!
Our most successful franchisees are:

Managers – they hire employees and delegate to grow their businesses.
Willing to learn – they take advantage of the network support to improve their operations and profitability.
Multi-talented – they are able to juggle the many aspects of running a business.
Salespeople – they enjoy helping their customers solve problems and save money.
Competitive – they set goals to achieve their ambitions.
We know you have a lot of questions about owning a Miracle Method franchise. We will answer some of the most frequently asked questions here. Rest assured that as you get started with the discovery process, we will answer all of the questions you have and maybe even some you didn't know you had!
What will I be doing?
We don't expect you to personally refinish bathtubs and countertops, we expect you to manage the development and growth of your business. While you will certainly learn and understand the details of refinishing, you will spend most of your time selling and managing rather than doing the actual work.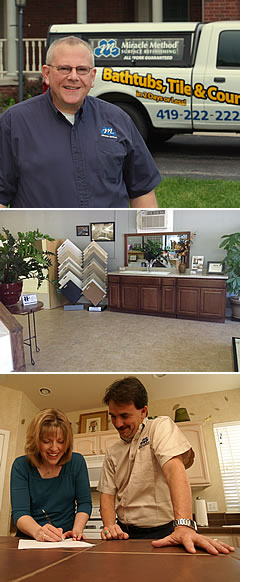 How much money can I make?
Your income potential will directly depend on your individual sales and management skills, abilities, and ambition.
Last year, Miracle Method's top one third franchisees generated annual sales between $779,868 and $2,009,114. (Franchises in business over 24 months with at least three technicians).
We will help you make your own financial projections during the discovery process.
How do you help me?
We help you start, promote and grow your business. Our system guides you through the setup of your business and we provide you with 20 full days of training. We help you create a marketing plan and provide you with all the marketing and advertising tools you need including your own local website, as well as national advertising.
We are committed to your continued growth and offer regional workshops, a national convention and a comprehensive online manual.
Our discovery process details exactly what we provide for you as you start your new business.
How long will it take to get going?
The average start-up time from signing a Franchise Agreement to opening for business ranges from 45 to 60 days. We provide checklists, critical path schedules and a marketing plan prior to training to assist you in making an effective transition through the start-up process. Our goal is to have your phone ringing with inquiries even before you return home from training. 
How do I get more information?
Simply visit our get started page or call us at 1-877-434-5096. We welcome the opportunity to start you through our discovery process.