Call or email us...We're here to help!
Call 1-888-271-7690 to reach your local Miracle Method office...or
click
FIND A LOCATION
for email and direct dial options.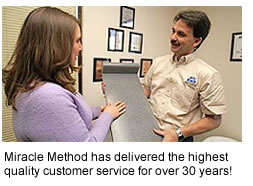 Miracle Method has over 120 locations to serve you and each location offers:
Free estimates
Fully trained and insured professionals to do the work
Work that is guaranteed
Miracle Method -
Refinishing at its finest!
Want to learn why Miracle Method is the best? Click on
How Miracle Method is Different.