Milwaukee Hilton Hotel - Squishy Tub Liners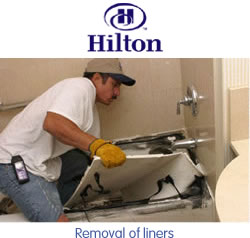 The Property
Hilton Hotels Corporation purchased the Hilton Milwaukee City Center in 1995. The hotel, originally built in 1928, is a four-star hotel in the center of downtown. Once the tallest and largest hotel in the city, it features unique Art Deco styling, a cavernous marble lobby and 730 guest rooms.

The Problem
Many of the hotel's bathtubs were worn-out and discolored. The decision was made to have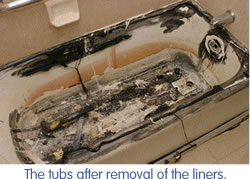 bathtub liners installed in approximately 500 units. Unfortunately, within just 2 years most of the liners had water leaking between the tub and the liner. The result was an unacceptable squishy feel for guests. In addition, the trapped stagnant water caused mold and unpleasant odors. To make matters worse, the ABS plastic liners had lost their gloss. They had two choices:
1. Tear out the liners and replace the bathtubs at an enormous expense and disruption to the operation of the hotel.
2. Remove the liners only and restore the original bathtubs through the process of refinishing.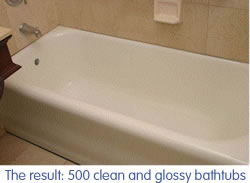 The Miracle Method Solution
After comparing the cost, time, construction mess, and disruption to the hotel's business, the decision was made in 2004 to have Miracle Method remove the 500 liners and restore the original bathtubs. Restoration involved the removal of the liners and subsequent repair of chips, cracks, and scratches, and the application of a new finish to make the tubs look and feel like new. This refinishing process also included a thorough cleaning, disinfecting, repairing, and bonding process before the new finish was to be applied.
Miracle Method coordinated the restoration project during the summer of 2004 with Hilton's on-site engineering department. To accommodate the hotel's schedule, the project was completed in two phases. In Phase One, Miracle Method's trained and insured crew restored 300 of the bathtubs and a few months later Phase Two restored an additional 200 units.

The Process
Miracle Method was able to offer turnkey service by cutting and ripping out the old liners. Once the trapped water was drained, the black adhesive used to glue the liners to the tub was removed, using special citric-based solutions. After the tubs were thoroughly cleaned and disinfected, they were beautifully restored using Miracle Method's proprietary refinishing process. To complete the job, drains and overflows were replaced and the tubs were re-caulked.
Hilton also had Miracle Method install a Slip Resistant Surface to reduce slip and fall liability.
The Result
The refinishing project was completed on time and on budget. The Hilton's squishy liner problem was eliminated and their bathtubs were restored to their original clean and glossy appearance. Miracle Method was able to save the hotel a significant amount of time and money, while minimizing any disruption to the hotel's day-to-day business.
Put Miracle Method on Your Case
For a free quote on commercial services, call 800-444-8827 or email Miracle Method sales@miraclemethod.com.
[ View More Case Studies ]