Who is Miracle Method?
Miracle Method is the nation's largest surface refinishing organization. Our franchise network started over 30 years ago and has grown to more than 125 franchises across the country.  In fact, we are larger than the next three biggest refinishing franchises combined.
Our objective is to be the best at what we do and live up to our reputation as "The Preferred Refinisher".  We will continue to set the industry standards for quality and customer service while helping our franchisees achieve financial success.
We're Specialists: We focus on bathroom and kitchen remodeling without costly and messy replacement. Our expertise is refinishing bathtubs, tile and countertops. As specialists, we are very good at our trade.
We're Experienced:  Our strength comes from the collective knowledge and expertise of our franchisees.  We have some of the most experienced professionals in the industry. Over twenty of our franchisees have been in business for 15 years or more. Several of those owners have been with Miracle Method for over 25 years!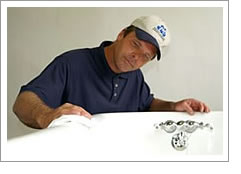 We're Innovative:  Innovation started with the development of our proprietary MM-4 bonding agent over 30 years ago and continues today.  We are constantly improving our technology and expanding our services to better meet the needs of our customers.  We are also creatively promoting the benefits of refinishing through home improvement TV shows, syndicated radio programs, the internet, and national hotel and college trade shows.
We're about Quality & Service: Being the best involves having the right processes, the best materials, and the commitment to serve our customers. We consistently receive a 98% or better satisfaction rate and glowing testimonials from our customers.
We're Supportive:  Miracle Method is a group of independent business owners bonded together in a common cause.  When our franchisees are successful, Miracle Method is successful!  We are committed to supporting our franchise owners through every aspect of growing their businesses.
Next: Discover the many advantages of owning a franchise.