The Incredible Value of Refinishing
There are UGLY bathtubs, showers, tile walls, vanities, sinks and kitchen countertops all over this country!  In the past, the traditional solution was to rip these fixtures out, throw them in the landfill, and install a brand new fixture.
Not only is replacement very expensive and time consuming, but it is environmentally irresponsible.
Today, there is a much better alternative to replacement….and it's called Surface Refinishing!
How does Miracle Method fix UGLY?
As a mobile service, we restore the existing fixture right in place.  We make any necessary repairs and then apply hi-tech acrylics through a proprietary process.  Our coatings create a new finish that is extremely hard and durable and will extend the life of the fixture for 15 years or more!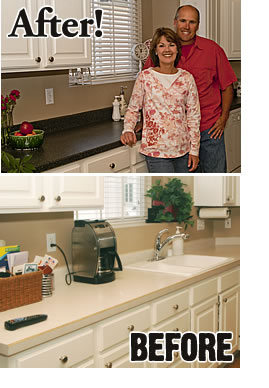 What are the benefits?
With the Miracle Method process we can:
Change colors using a wide selection of designer colors and textures
Repair cracks, chips, and scratches
Restore the finish so it's smooth, clean, and glossy
Permanently seal tile grout lines so they are easy-to-clean
Add 15 - 20 years of life to bath and kitchen fixtures
Save thousands of dollars over replacement
Complete most jobs in just 2-3 days without the mess of replacement
Refinishing by Miracle Method looks better, lasts longer and feels better than our competitors' refinishing.
Next: Read about the broad demand for refinishing.