FAQ's
How long will it take to get going?
The average start-up time from signing a Franchise Agreement to opening for business ranges from 45 to 60 days. We provide checklists, critical path schedules and a marketing plan prior to training to assist you in making an effective transition through the start-up process. Our goal is to have your phone ringing with inquiries even before you return home from training.   
What support can I expect?
Miracle Method is committed to serving the needs of our franchisees.  You'll receive on-going technical, marketing and administrative support for as long as you own your franchise.
Technical Support… you will have access to a technical trainer, a franchisee message board, technical updates, annual technical workshops, and an ops manual. You will always be able to get an answer to your technical questions or challenges. 

Marketing Support… you will receive startup marketing collateral, including business cards, letterhead, brochures, door hangers, and sales brochures.  A customized marketing plan will be developed for your territory and you will have access to Miracle Method's vast arsenal of radio and television commercials, direct mail programs, truck signage, home show materials, display ads, and more. The marketing team will be available to you for advice and direction to keep your advertising and marketing effective and persuasive.

In addition, a customized subweb and unique url address will be created for you so customers can find your phone number, email you, request an estimate and read about your particular services.

National advertising support… you will benefit from Google pay-per-click ads, national PR releases, magazine articles, online yellow page ads and social networking.

Administrative support… you will benefit from Miracle Method's expertise in accounting, IT and operations.  Members of our national staff are experts on QuickBooks Online, our CRM software, and web marketing options.  After your initial training in these areas, you are only a phone call or email away from additional help whenever you need it.

How much training will I receive?
New franchisees receive 15 days of technical, administrative, and marketing training.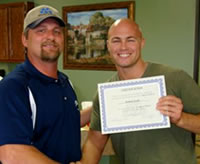 Ten days of hands-on technical training teach you how to deliver superior quality refinishing that will distinguish you from your competitors.  We recommend you bring at least one technician with you to training. 
Five days of sales, marketing, advertising and administrative training prepare you to generate sales and manage your daily operations. You'll learn how to make a sale, how and when to follow up, how to market your business and how to place advertising.  You will also learn how to use the accounting and scheduling software that will stream line your business.     
Like all profession organizations, we offer continuing education through regional workshops, technical bulletins and national conventions.
What is the next step?
Fill out our Get Started Form or call 800-444-8827 and ask about a Miracle Method franchise in your area.
You will receive a password to allow you to explore and evaluate the Miracle Method franchise offering. You'll follow an informative path learning more about Miracle Method and the growing refinishing industry. You will then receive additional information and ultimately be invited to a Discovery Day.
Discovery Day is your opportunity to see refinishing first hand and to meet the support group that will be there for you when you decide to join the Miracle Method team.
2013 Discovery Day Calendar
January 25
July 12
February 15
August 16
March 8
September 20
April 19
October 25
May 31
November 8
June 14
December 13
Next: Get started and we would be happy to talk with you.