Facilities Managers -
Leaking shower pans, moldy tile, dirty grout… Miracle Method has a permanent solution!

Tile cleaning services provide only a temporary solution for mold and crumbling grout in tile showers. Miracle Method offers a multi-step process that starts with cleaning and ends with a permanent leak-free seal and a refinished surface with an updated look that is easy to maintain.
Our process will help you maintain your dorm rooms, student apartments and community bathrooms in top condition. We'll help you stay on time and on budget.
Call 800-444-8827 for an estimate or referral.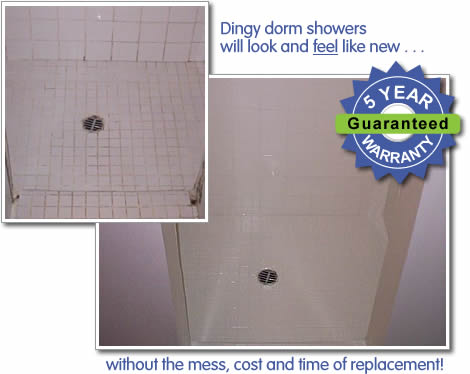 Bathtub/Shower/Countertop Refinishing – Don't Replace, Refinish!
Your financial administrators will love not having to spend thousands to remove and replace damaged bathtubs and showers. Miracle Method can change colors, repair chips, fix cracked fiberglass units, and restore the surfaces to look and feel like new. Quality refinishing will not only stretch your budget, but can have dorm rooms and shower areas back in service in 24 hours, not days or weeks.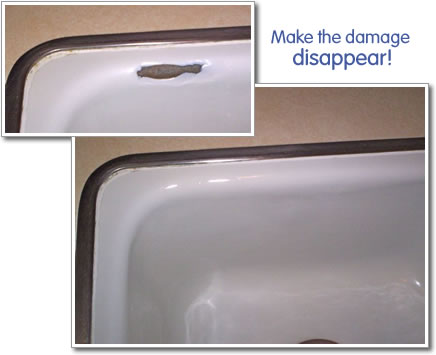 Cleaning Tile – How is Miracle Method different?
Miracle Method does not use household or single step commercial cleaners. We use a proprietary two-step cleaner that aggressively removes soap scum, body oil, dirt and eliminates and kills mold. It not only cleans, but also leaves the surface with a neutral PH making it ideal for a new Miracle Method refinished surface.
Sealing Tile – What is Miracle Method's sealing process?
Silicone and other off the shelf grout sealers do not provide permanent seals and will wear off quickly with the heavy use college showers and facilities receive. MiraSeal

was developed specifically for heavy use areas where leaking shower tile and pans can damage walls and where wet areas can foster mold growth.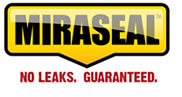 MiraSeal

is an epoxy designed to flow through grout lines. It cures underwater in 24-hours and will displace any moisture under the tile or in any concrete cracks or fissure. It creates a waterproof seal and locks loose tiles in place, permanently sealing the grout and helps prevent "black grout" and mold from ever starting.
After allowing MiraSeal

to cure overnight, Miracle Method then refinishes the tile typically with its Natural Accents

stone look finish, followed by two coats of clear acrylic. The end result is a leak-free shower environment that is also easy to clean and maintain.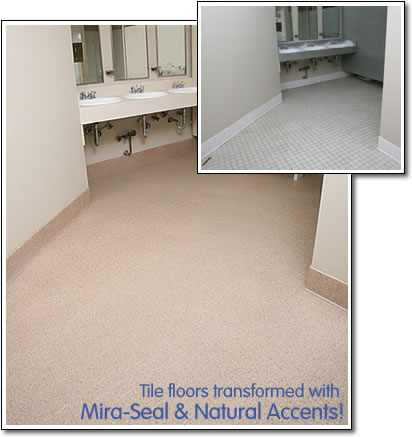 How do you maintain a refinished bathtub surface?
Kohler, American Standard, Lasco and others do not recommend harsh or abrasive cleaners; neither do we! There are a number of branded products we can recommend that will not harm a refinished or new surface. We also offer Mira-Clean, an exclusive Miracle Method product, that is safe for all bathroom surfaces. It is used by a number of hotels around the country.
Tile Refinishing - How cost effective is MiraSeal™ and tile refinishing?
Sealing with MiraSeal

and following with a new refinished surface can save your budget up to 75% over the cost of replacement of tile and shower areas. You'll not only potentially save thousands of dollars but will avoid days or even weeks of demolition mess and costly replacement.
MiraSeal™ and Refinishing – How durable is the surface?
The use of MiraSeal

and quality refinishing by Miracle Method results in a surface that is sealed from water, easy to maintain, resistant to detergents and is mold resistant. The grout will not flake or fall out and the surface will look like it's been replaced.
Refinished and MiraSealed Tile – Is the work guaranteed?
Miracle Method is so confident that the surface and grout are guaranteed not to peel or leak for five years!
Bathtub, tile, fiberglass, cultured marble and laminates – What other surfaces does Miracle Method refinish?
Miracle Method's process works equally well on porcelain, ceramic tile, cultured marble, acrylic and fiberglass. Our proprietary non-acid bonding agent, MM-4, assures you of a long lasting new surface that will not peel. It's guaranteed!


What about vanity and kitchen countertops?
No matter if the surface is Formica
cultured marble, Corian
or tile, Miracle Method can refinish the surface. Cracked and scratched cultured marble sinks can be fixed while burns and chips will disappear. Formica
and other laminated surfaces can be brought back to life even after years of student abuse, especially when refinished with Miracle Method's Natural Accents

stone look.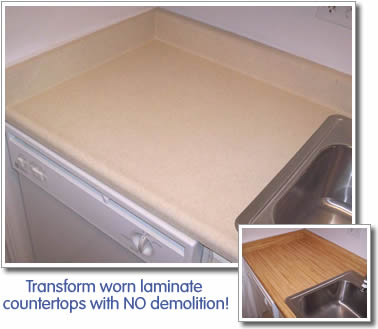 We are members of APPA and are committed to helping you improve the collegiate housing experience for students.